Broad Spectrum
CBD Cookies – 20mg
$65.00
Who doesn't love sinking into a good cookie? We've teamed up with our Austin friends at The Goods to bring you delicious gourmet cookies infused with our True Stopper broad spectrum CBD. Who said your wellness routine had to be bland? With a tasty selection of flavors, we have something for everyone.
Out of stock
About CBD Cookies – 20mg
Sometimes simple is best. Our cookies have all natural ingredients you can name and are as close to home baked as you can get (with the added benefit of CBD). Our friends at The Goods have baked 20 mg of our True Stopper CBD into each cookie, so you can relax and sink your teeth into a treat that's working overtime — without any intoxicating side effects. There's no need to ignore your sweet tooth with ingredients you can feel good about.
The Goods offer our True Stopper CBD in freshly baked chocolate chip, snickerdoodle, and sledgehammer (chocolate chip and macadamia nut) flavors.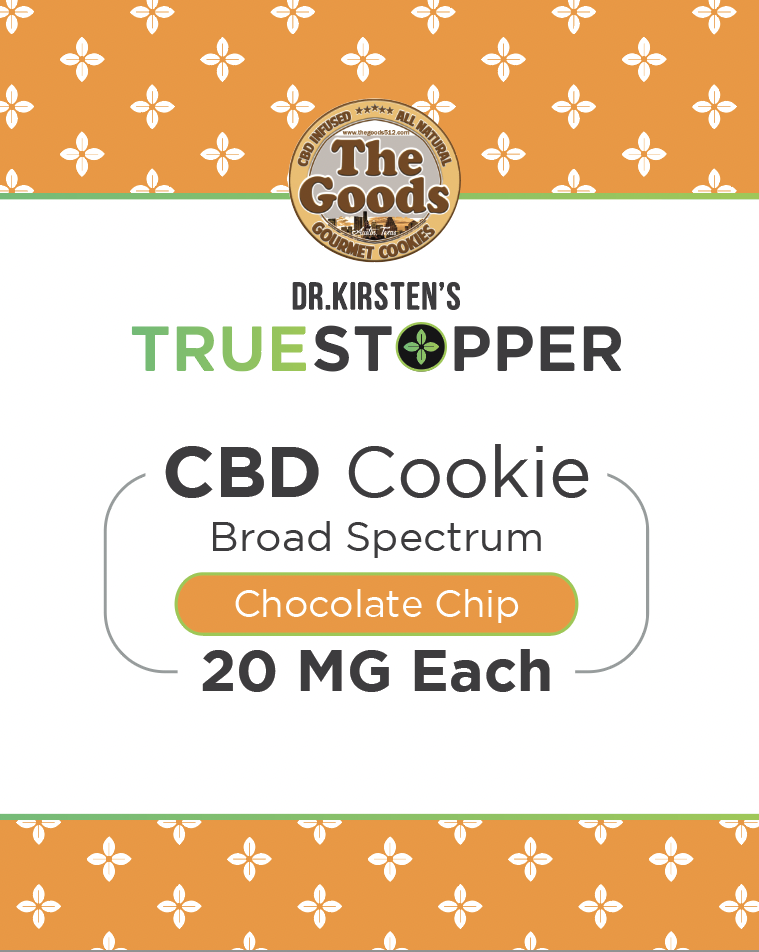 Additional Information
Quantity:
6 Cookies
Flavor:
Sledgehammer, Chocolate Chip, Snickerdoodle
Suggested Use:
For adults, take 1 cookie by mouth daily. Keep out of the reach of children. Do not use it if the safety seal is damaged or missing. In order to preserve freshness, store away from heat, light, and humidity. Refrigerate after opening. Store in refrigerator for up to one week.
Ingredients: (See Individual Packaging for Full Ingredient List)
All cookies contain flour, sugar, vanilla extract, eggs, and butter. *Some flavors contain nuts and all flavors are baked in a facility that processes nuts*
Storage:
In order to preserve freshness keep away from heat, light and humidity. Refrigerate after opening.
Product Highlights:
Broad Spectrum Hemp Extracts (Cannabidiol, Cannabinol, Cannabigerol)

Made from USA Sourced Non-GMO, Fertilizer Free and Pesticide Free Hemp 

20mg Total CBD Content per Cookie

All Natural Ingredients
Benefits of True Stopper® CBD Cookies 20mg

Supports Stress Reduction

Accelerates Exercise Recovery

Helps Manage Muscle and Joint Pain

Relieves Inflammation

Easy to Enjoy Cookie and Available in Multiple Flavors
Why Truestopper CBD?
ORGANIC HEMP BASED CBD
All of our cannabinoids are extracted from organic hemp plants cultivated in the U.S.
CREATED BY DOCTORS
We are doctors and healthcare providers utilizing our scientific backgrounds by combining CBD and physical medicine without drugs or surgery, bringing everyone the same type of natural, whole-person pain relief that athletes and celebrities receive.
TRIPLE-LAB TESTED
Our products are triple-lab tested and guaranteed to be free of pesticides, heavy metals and mold. CBD and THC content is verified in each product by ISO-certified labs.
SUPERIOR FULL SPECTRUM
Our special formulation ensures important cannabinoids (CBD) and terpenes are produced with less than .3% THC.
TARGETS YOUR PAIN
You don't have to live with chronic pain. Truestopper CBD provides relief for people dealing with chronic neck, back, joint, muscle, and nerve pain that do not include drugs, surgeries or temporary fixes.
MONEY BACK GUARANTEE
Our products are scientifically proven to work or your money back!
0 Reviews for CBD Cookies – 20mg