Full Spectrum
Pet CBD Oil – 900mg
$24.99 – or subscribe and get 30% off
Your furry companion goes with you everywhere, and now you can share the benefits of our TrueStopper® CBD Pet Oil with them, too! Our full spectrum CBD Pet Oil is crafted to provide your pet with the relaxing and pain relieving properties of CBD in a tasty chicken-flavored oil they're sure to love.
Alleviating symptoms from anxiety to aches and pains, our TrueStopper® CBD Pet Oil is a natural way to provide your pet with the best quality of life – whatever stage that may be, from puppy (or kitten!) to senior stud.
About Pet CBD Oil – 900mg
Our pets are a part of our family, and it was important to us here at TrueStopper® to be able to offer them the same great benefits of full spectrum CBD as we do their owners. Our TrueStopper® CBD Pet Oil is chicken flavored to make sure even the pickiest of pets will love it — easily mixing into mealtime to calm their anxieties and achy joints.
This superior quality full spectrum CBD oil is an easy way for you to boost your furry pal's quality of life. TrueStopper® CBD Pet Oil is sure to receive a paw print of approval.
View certificate of analysis for supporting statements.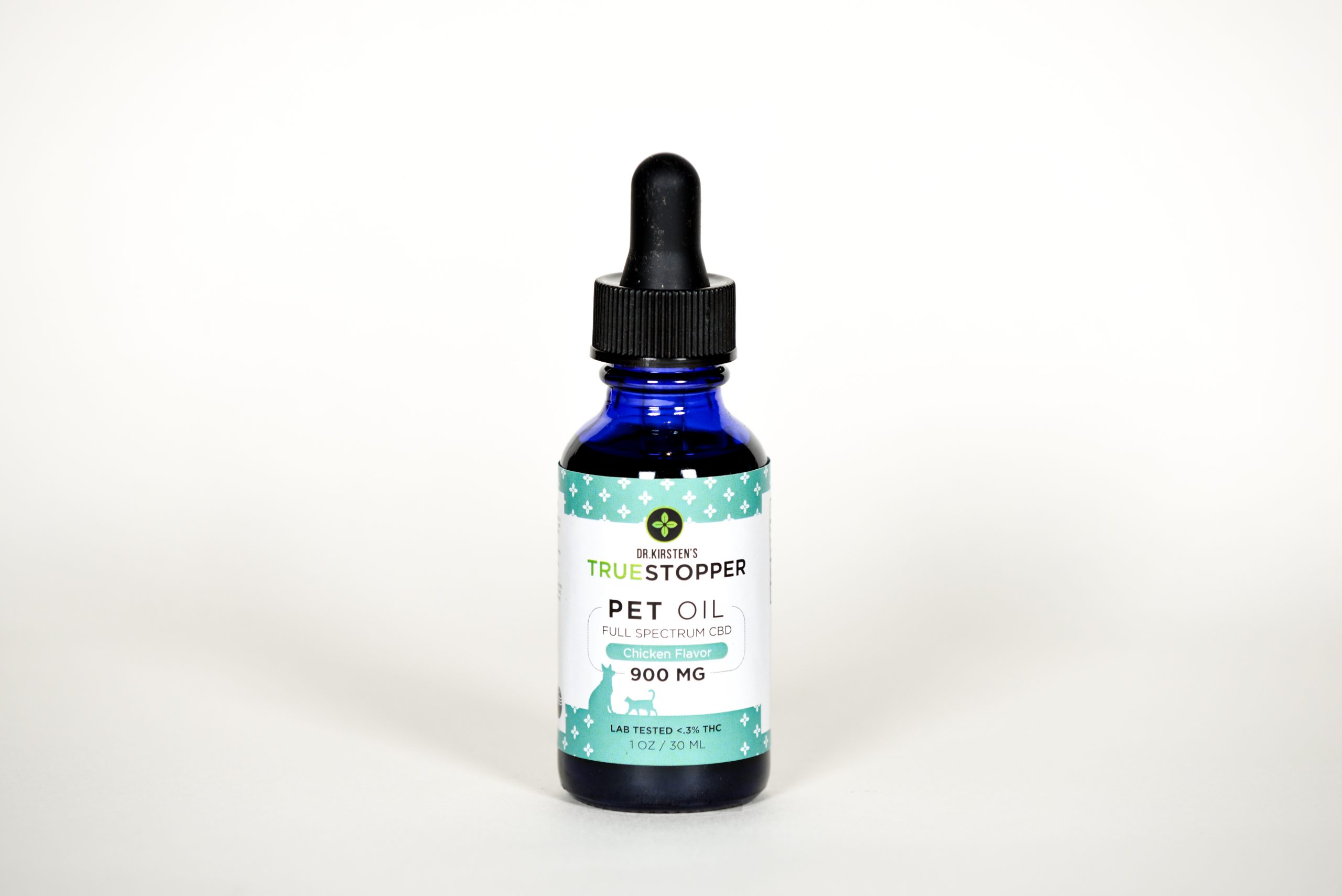 Additional Information
Quantity:
1 oz/ 30 ML
Suggested Use:
For pets 25-50 lbs, give one full dropper daily. In order to preserve freshness before opening, store in a cool, dry place away from sunlight. Refrigerate after opening. Keep out of reach of children.
Ingredients:
Fractionated Coconut Oil (MCT Medium Chain Triglycerides), Non GMO Sunflower Lecithin, CO2 Extracted Full Spectrum Hemp Oil, Chicken Flavoring
Benefits of TrueStopper® CBD Pet Oil:
Helps reduce anxiety in pets

Supports pain management in pets

May contribute to a complete anti-seizure regiment for epilepsy
Product Highlights:
Full Spectrum Hemp extracts (Cannabidiol, Cannabinol, Cannabigerol)

Pet-approved chicken flavor

Made from USA sourced non-GMO, fertilizer free and pesticide free hemp 

Minimally processed

Pet safe ingredients
Benefits of Pet CBD Oil

Helps reduce anxiety in pets

Supports pain management in pets

May contribute to a complete anti-seizure regiment for epilepsy
Why Truestopper CBD?
ORGANIC HEMP BASED CBD
All of our cannabinoids are extracted from organic hemp plants cultivated in the U.S.
TRIPLE-LAB TESTED
Our products are triple-lab tested and guaranteed to be free of pesticides, heavy metals and mold. CBD and THC content is verified in each product by ISO-certified labs.
CREATED BY DOCTORS
We are doctors and healthcare providers utilizing our scientific backgrounds by combining CBD and physical medicine without drugs or surgery, bringing everyone the same type of natural, whole-person pain relief that athletes and celebrities receive.
TARGETS YOUR PAIN
You don't have to live with chronic pain. TrueStopper® CBD provides relief for people dealing with chronic neck, back, joint, muscle, and nerve pain that do not include drugs, surgeries or temporary fixes.
SUPERIOR BROAD SPECTRUM
Our special formulation ensures important cannabinoids (CBD, CBG, CBN) and terpenes are produced without THC.
MONEY BACK GUARANTEE
Our products are scientifically proven to work or your money back!
1 Reviews for Pet CBD Oil – 900mg