Broad Spectrum
CBD Body Lotion – 300mg
$39.99 – or subscribe and get 30% off
When your muscles are feeling a little tight or you're looking for an everyday lotion to take your routine up a notch, look no further than the TrueStopper CBD Body Lotion. Packed with anti-inflammatory, anti-microbial, and skin-nourishing ingredients, our CBD lotion has something in it for everyone. With a unique combination of herbal extracts and oils, the subtle fragrance blends easily into the products you're already using.
About CBD Body Lotion – 300mg
Topical CBD can help relieve joint pain, skin inflammations, and even achy muscles. Our non-greasy CBD body lotion is made with organic aloe and coconut oil, absorbs quickly and comes packed with essential oils and nourishing extracts to soothe you from head to toe. With the aromatic combination of rosemary and lemongrass, the TrueStopper CBD Body Lotion even helps repel mosquitoes and other biting insects – making a great addition to your summertime weekend bag.
With 300mg of CBD, this formula is mild enough to use all over the body, and as often as needed. This is a skin-loving lotion you and your skin are going to love right back.
View certificate of analysis for supporting statements.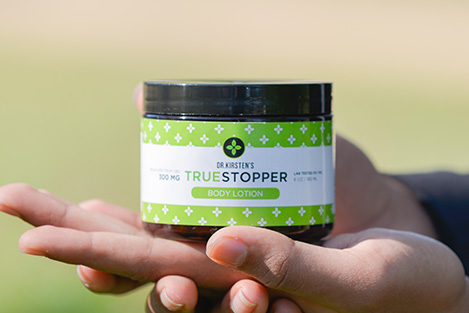 Additional Information
Quantity:
6 oz/180 ml
Suggested Use:
Apply a liberal amount to clean, dry skin. Massage product in until fully absorbed. Reapply as needed. For external use only. Avoid contact with the eyes when using this product. TrueStopper® CBD Lotion is intended for external use only. Do not use this product on open wounds or cracked skin. Consult a doctor before using TrueStopper® CBD Lotion if you have sensitive skin. Discontinue use if irritation occurs. Keep out of reach of children. Store in a cool, dark place.
Ingredients:
Organic Aloe Leaf Juice, Organic Coconut Oil, Emulsifying Wax, Glycerin, Stearic Acid, Vitamin C Ester, Phenoxyethanol, Vitamin E, Green Clay Extract, Organic Blueberry Fruit Extract, Organic Red Raspberry Fruit Extract, Organic Cranberry Fruit Extract, Organic White Willow Bark Extract, Rosehip Seed Oil, Organic Neem Seed Oil, Organic Rosemary Leaf Extract, Organic Sunflower Seed Oil, Organic Alcohol, Xanthan Gum, Tetrasodium Glutamate Diacetate, Organic Lemongrass Oil, Broad Spectrum Hemp Distillate, Sunflower Lecithin
Storage:
Keep out of the reach of children. Do not use if safety seal is damaged or missing. In order to preserve freshness, store away from heat, light, and humidity.
Product Highlight:
Broad Spectrum Hemp extracts (Cannabidiol, Cannabinol, Cannabigerol)

Made from USA sourced non-GMO, fertilizer free and pesticide free hemp 

Gluten-Free

Vegan
Benefits of CBD Body Lotion

Aides Stress Reduction

Accelerates Exercise Recovery

Helps Manage Pain
Why Truestopper CBD?
ORGANIC HEMP BASED CBD
All of our cannabinoids are extracted from organic hemp plants cultivated in the U.S.
TRIPLE-LAB TESTED
Our products are triple-lab tested and guaranteed to be free of pesticides, heavy metals and mold. CBD and THC content is verified in each product by ISO-certified labs.
CREATED BY DOCTORS
We are doctors and healthcare providers utilizing our scientific backgrounds by combining CBD and physical medicine without drugs or surgery, bringing everyone the same type of natural, whole-person pain relief that athletes and celebrities receive.
TARGETS YOUR PAIN
You don't have to live with chronic pain. TrueStopper® CBD provides relief for people dealing with chronic neck, back, joint, muscle, and nerve pain that do not include drugs, surgeries or temporary fixes.
SUPERIOR BROAD SPECTRUM
Our special formulation ensures important cannabinoids (CBD, CBG, CBN) and terpenes are produced without THC.
MONEY BACK GUARANTEE
Our products are scientifically proven to work or your money back!
0 Reviews for CBD Body Lotion – 300mg